CONSUMER GROWTH PARTNERS OVERVIEW
                                                 Consumer Growth Partners is a private equity investment and advisory firm with an exclusive focus                                                    on specialty retail and non-perishable branded consumer products companies.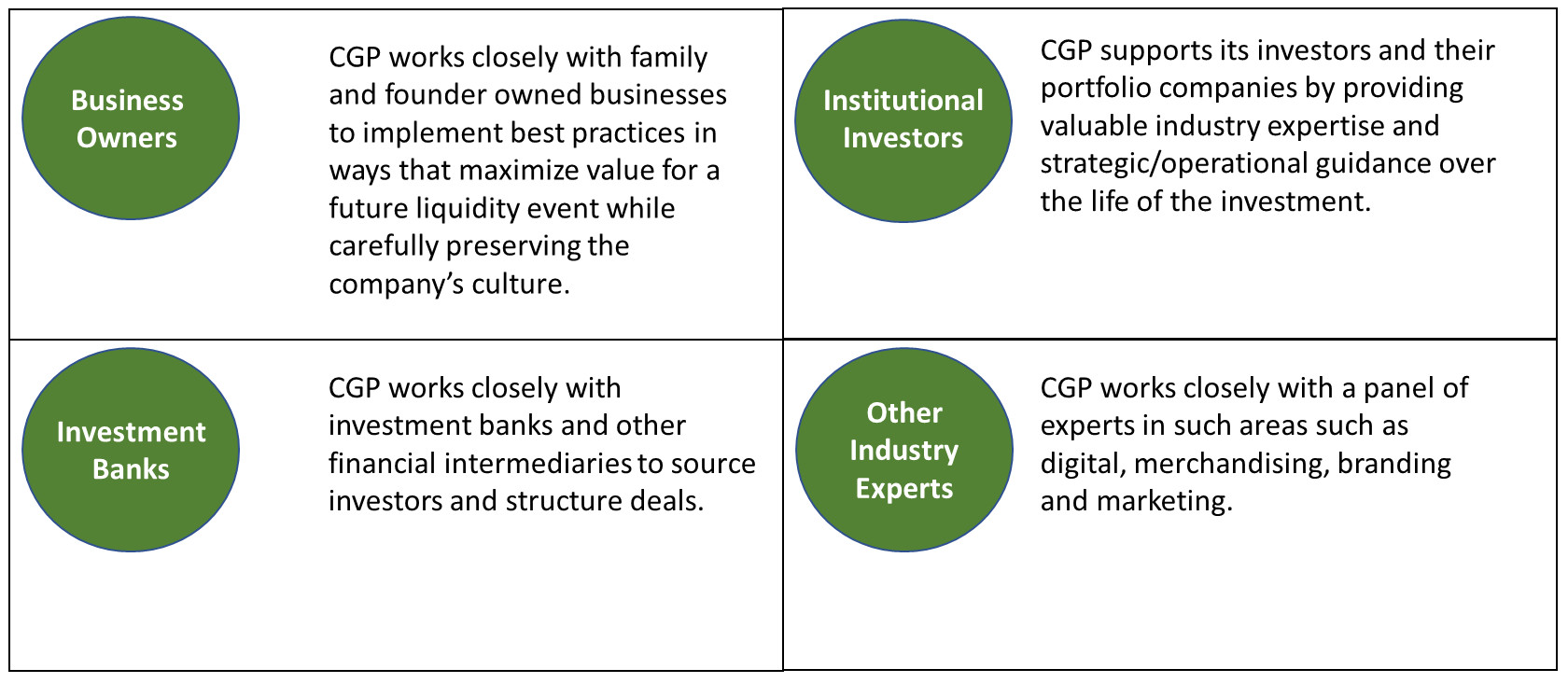 Richard Baum
Managing Partner
Richard co-founded Consumer Growth Partners in 2005. Prior to founding CGP, he spent over 15 years as one of Wall Street's leading equity research analysts covering the specialty retailing sector at Credit Suisse First Boston, Goldman Sachs and Sanford C. Bernstein. Mr. Baum led nine initial public offerings and six secondary offerings for many retailers including Abercrombie & Fitch, Build-A-Bear Workshop, Cabela's, Gymboree, Life Time Fitness, Talbots, Urban Outfitters, Yankee Candle Company and Zale Corporation.
Previously, Mr. Baum spent six years in the merchandising organization at Bloomingdale's. He also served as the Director of Strategic Planning for the predecessor company of Musicland and began his career as a consultant with The Boston Consulting Group.
Mr. Baum serves as a Board Director for Vera Bradley, Inc. (NASDAQ: VRA) and as Chairman of the Board of Harris Jewelry. He is also the President of RMS (formerly Retail Marketing Society). Mr. Baum earned a BS degree in economics from the University of Michigan where he graduated magna cum laude with Phi Beta Kappa honors. He also earned a JD degree from Harvard Law School.
Liz Dunn
Operating Partner
Liz is the founder of strategic consultancy Talmage Advisors. She has over 20 years of experience working with retailers and brands in strategic planning/ implementation, equity research and investment banking. Liz also founded retail analytics platform Pro4ma.  Liz is an Independent Director on the GameStop Board of Directors.
Prior to founding Talmage, Ms. Dunn was an equity research analyst covering the specialty retail, department store, branded apparel, footwear and luxury sectors. During this time, she covered over 40 publicly traded companies and was involved with IPO's for Lululemon Athletica, ULTA Salon, Cosmetics & Fragrance and Michaels Stores.
Prior to her career in equity research, Liz held finance and strategy roles at Gap Inc. and Liz Claiborne. She began her career as a member of the Consumer Investment Banking group at Bear Stearns & Co. where she assisted in both financing and M&A transactions including the sale of Nine West to Jones Apparel Group.
Ms. Dunn graduated from Spelman College with a B.A. in Economics.